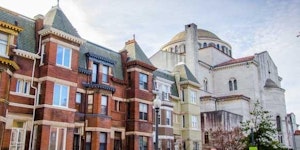 Elevation DC
is sponsoring the panel discussion
Who needs affordable housing?
Tuesday, October 13 from 6:00 - 8:30 pm
at Thurgood Marshall Academy Public Charter High School (2427 Martin Luther King Junior Ave SE).
According to the website,
Panelists will explore the state of the housing market in the District and the region, dispel myths about housing, discuss how well-designed affordable housing contributes to an entire neighborhood, and figure out what exactly "affordable" means.

Our panelists are:
Polly Donaldson, director, D.C. Department of Housing and Community Development
Fernando Lemos, executive director, Mi Casa
Dave Stembel, director of housing and urban design at Grimm+Parker Architects
Ed Lazere, executive director of DC Fiscal Policy Institute

Andy Shallal, owner of Busboys and Poets and 2014 D.C. mayoral candidate, will moderate the discussion.
The event is free; reserve your seat online.