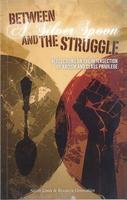 The DC Chapter of
Resource Generation
and author Nicole Lewis will celebrate Resource Generation's most recent publication,
Between A Silver Spoon and The Struggle: Reflections on the Intersections of Racism and Class Privilege
. The event will feature selected readings and a Q&A, information about how to join upcoming DC Praxis Groups, food, and a community of folks dedicated to honoring our complexities, organizing, and social change.
The event takes place February 28 from 6:30 - 8:30 pm at Vera Cruz (2108 Vermont Ave NW). More information and to RSVP.
The book is available at Politics & Prose.